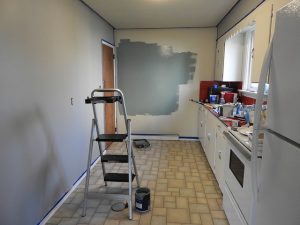 There are many ways to improve the look of your home and increase its value without breaking the bank. Whether it's in need of freshening up or you have decided to put it on the market, a little bit of work can make a big difference for very little cost. The five home improvement tips that will increase the value of a home for a first time homebuyer are listed below.  If you are a first time home buyer, perhaps looking to buy a house in Bradenton, Fl these tips can help you save money on a purchase and immediately add value to your home.
If you have decided to sell, a few minor home repairs can increase the value by as much as 20% in today's market. By taking an objective walk through your home, you can note the areas that need some minor repairs and develop a completion plan while keeping your budget in control.
Make A Plan
Though updating the entire house in your primary goal, here are the key areas to focus your attention and your budget on for the best results.
Paint
A good quality neutral coat of paint on all walls and trim can increase the value of a home almost immediately. Done either by a professional or as a DIY project, this is the first step in your homes new life. Repairing any trim and replacing broken or faded switch plates is also an easy fix for a low cost.
The Kitchen
The kitchen is the most critical area in your home repair efforts. Home buyers are looking for clean and spacious kitchens that flow without clutter. By updating the lighting and adding a coat of fresh paint, you can transform a dated kitchen for a more up to date look and feel. Remove all unnecessary clutter and replace any fixtures that show wear. Installing new flooring can drive up the overall value of the home.
Living and Family Areas
Like the kitchen, the family areas must give the illusion of space and comfort. Old and broken furniture should be removed as well as faded and excessive wall art. Once painted, continue with the neutral theme by minimizing clutter and adding light with lamps. New window furnishings can capture extra visual appeal by enhancing natural light.
Bedrooms
Think clean and spacious with luxurious touches to make these rooms pop. As in the rest of the home, remove extra furniture and repair and replace any fixtures that have seen better days. Invest in new bed linens and carpeting if possible. Bedrooms need to feel calm and soothing, and by minimizing distractions, you can offer this effect with very little effort.
The Bathroom
This is the second critical area that may require a bit more effort to bring it up to date. New lighting, fixtures, and furnishings can overhaul an outdated bathroom immediately. Repainting cabinetry and re-grouting tiles are also quick and easy fixes for a cleaner and new feel. Clear out medicine cabinets and add new towels for better presentation.The bathroom may not be high on your priority list when considering rooms to remodel. However, bathroom remodels can help to improve the resale value of your home.
One of the easiest ways to improve the appearance of your bathroom is to re-grout the tile or thoroughly clean the grouting that is in the bathroom. Then, you can purchase a new rug and towels for the bathroom area. A beautiful matching shower curtain will nicely complete the look. If you have a tiny bathroom, these improvements can make an incredible difference.
Curb Appeal
Simple gardening will go a long way to making your home more attractive. Keep your trees and hedges trimmed and your gardens colorful for instant appeal. Repaint the moldings and front door a welcoming color and change the style of your light fixture for a new look.
A well-maintained home is noticeable from the first step on the property. Enhancing the flow and visual appeal of a well put together home can increase its value considerably. If moving is not in your plans, then all these ideas can be used to update your home for a brand new feel. Either way, keeping your home in the best shape will always be money well spent.
Fixing up your lawn and backyard is another great way to increase the market value of your house, and it can add some beauty to your house as well. Keep the home improvements to your landscape fairly simple, such as getting rid of old or dead shrubs and trees, or planting new bushes and colorful flowers. Do as much as you can to give your landscaping a facelift, and you will raise the value of your house at the same time.