How Blue Apron Can Save You Money
I've always wanted to be a professional cook like on TV.  When I got my Blue Apron box, it was a little like having a secret fantasy come true.
If you know you want to sign up already click here. If you need to know more about it then please keep reading.
Ordering Your First Blue Apron Box
The ordering process is quick and easy. Simply go to Blue Apron's webpage and sign up. After inputting your information and any coupon codes you find you select which meal plan you want.
Blue Apron will let you pick your favorite types of meat to eat, or rather your least favorite. In the settings menus, you can check or uncheck meats you do or don't like. This allows Blue Apron to tailor the meals to what you like rather than what they just currently have available.
Blue Apron also offers vegetarians a wide array of options. As someone who loves to eat meat, I can say that the vegetarian meals they sent so far have been some of my favorites.
If after you sign up you don't want to get a box every week you can "skip" a box. Or you can go in like me and skip all the boxes. Not that I'm never going to order again but I don't want to accidentally forget that I've got a box coming and I'm on vacation and can't get it.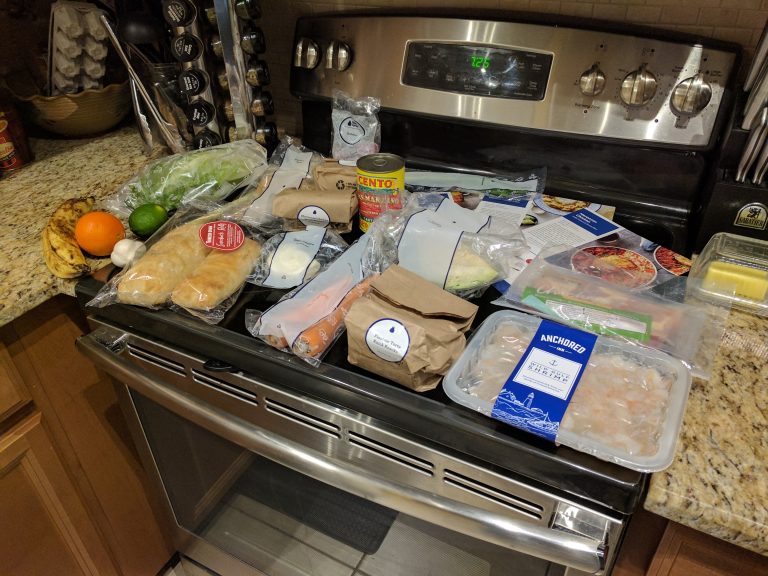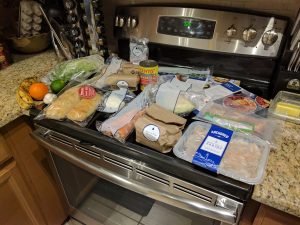 When It Arrives
The box itself is not that large, or at least not as large as I thought it would have been. Once you open it though you see everything packed perfectly. It's in an insulated bag with several ice packs and has so much food in it that it looks like you've just gone grocery shopping.
I took everything out of the bag and cleared a shelf in the fridge that was designated for Blue Apron meals. There were some things that came that I already had like limes, garlic, and oranges that I didn't want to mix.
Preparing The Meal
Have you ever been jealous that TV has perfectly portioned out amounts of whatever they need? The first 15 to 25 minutes of making this meal will be making that for yourself.
Blue Apron comes with recipe cards that have instructions so detailed anyone could do it. Starting with chopping, mincing, slicing, etc. all the food. What I like is that it will have you start cooking one thing and then the instructions tell you when it's time to start working on another portion of the meal instead of waiting.
According to the recipe cards, the meals I made should have taken a total of 30 to 45 minutes. It took me about an hour on each. Probably because I'm not as comfortable with a knife and don't chop as fast as they are expecting. I also had to stop and read the card over and over again in an attempt to make sure what I'm doing is correct.
Once you start the process though it is really fun and relaxing. A warning however, it does dirty a lot of dishes. I used a small plate or bowl for each ingredient as I was prepping so I could just dump the whole thing in when needed. There are ways that you can decrease that but, to me it's part of the fun to be able to just pour it in the dish.
How Filling Is It?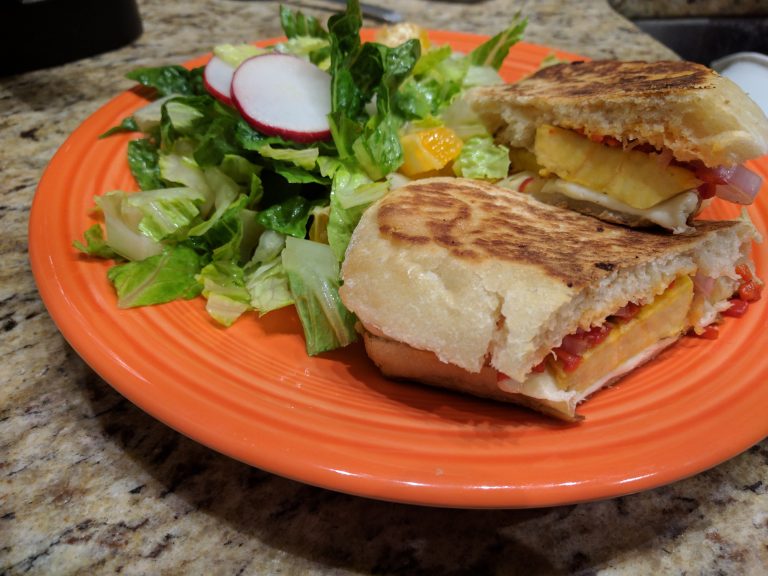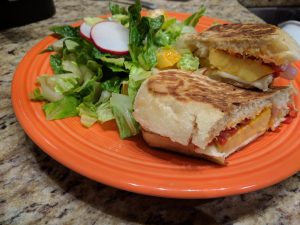 Having just two people in my family made the choice of sizing easy. One of the dishes I made I had several people over and turned into 4 dishes instead of 2. They were very filling and we all were happy with what we got. Making me think that had I eaten a whole amount myself I wouldn't have been able to move because of how much food we had.
Not all the meals were as filling. The first meal, Oaxaca Cheese and Plantain Torta, was not nearly as filling. It fed both of us and we were full but had no leftovers. So there was no way we could have fed more than just us.
Should You Use Blue Apron Every Week?
We loved Blue Apron so much we want to do it every week. The food is great, better than anything I make on my own, but the cost is also pretty steep. I can usually make a meal for the two of us for half the price that these meals cost.
However, my wife and I also go out to eat from time to time and that can get pretty expensive. So we consider Blue Apron meals more as a special night type thing and it actually cuts down our budget. Instead of spending $35 to $50 at a restaurant by using Blue Apron we spend $60 for 3 nights of amazing meals.  In fact, it might also be cheaper than going to the grocery store in some situations. Savingadvice.com did a neat analysis of a Blue Apron meal and found it was about half as expensive as supermarket prices once you factor in the unit costs (here).
Not only will Blue Apron save money, but it also teaches me how to make things I would never have thought to make before. The plantains are things I've never really had before, especially in a sandwich. But, they were amazing and I would gladly eat them again. Not to mention I can get them at the produce store for less than $2, making it a very inexpensive meal.
If you have ever wanted to cook like the pros making delicious meals you can brag to your friends about then you need to sign up for Blue Apron. This link is good for $30 off your first order.
Did you like this article? If so, please share it on social media!
Other Blue Apron reviews:
(Visited 25 times, 1 visits today)