Earn Extra Money With Cashcrate
If you want to earn extra money online, CashCrate offers a simple way to do so. In this post, you'll learn how CashCrate works, how to earn money with them, how to sign up, and tips to help you get started.

How Cashcrate Works
In a nutshell, businesses are looking for people to try their products and services, and they're willing to pay you to do just that.
How to Earn Money
You can make money by completing offers, surveys, and shopping online. In addition, you can also refer others to Cashcrate and get paid a percentage of what they make as well.

Thus far, I haven't completed surveys, shopped online, or gotten referrals. Since I've only completed offers, I'll explain the two different types.
100% Free Offers
To test the validity of Cashcrate, I started off by doing the 100% free offers. Giving your credit card information was not necessary for these, so there was no risk of being charged for anything.

One of the offers I completed was "Degree Finder," which was worth 50 cents. In my experience, most of the free offers were worth between 20 and 75 cents. After you're done, click the "submit" button next to the offer.
From this point, the status of the offer will be pending. When Cashcrate verifies that you've completed the offer, the money will be added to your account.
But because these are usually lower-paying offers, I began to move away from them and onto trial offers.
Trial Offers
Trial offers do require a credit card, so you need to be comfortable providing your information. However, the nice thing about these offers is that they pay more than the 100% free offers.
For example, I signed up for a trial version of Safe ID, a credit-monitoring service. It's free for 15 days, and the offer is worth $9.
If you do the trial offers, make sure to cancel within the trial period if you're not interested. Otherwise, you'll end up with charges on your credit card. To stay organized, keep a list of the phone number, the date the offer was submitted, and trial period for each offer.
How to Sign Up
Signing up is easy and free, and you even get $1 just for doing it. Once you're logged in, you can select offers to complete.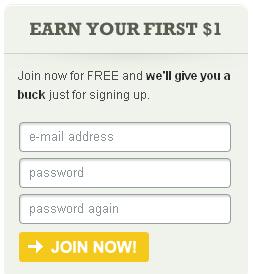 Tips to Help You Get Started
Sign up for a new email address. Hotmail or Gmail will work great. The concept of the site is to earn money by getting on a company's mailing list, so you'll be getting lots of email. Since you don't want it to interfere with your personal email, creating a separate address will dedicate all the new email to that address.
If you're going to be doing a lot of the free offers, consider using something like RoboForm to speed up the process of filling out forms.
Sign up for Cashcrate. Enter your newly created email and password. From there, you'll enter basic information such as your full name and address. This is used to send your check once you've earned enough money.
Complete enough offers to earn at least the $20 minimum to receive payment.
Thus far, I haven't earned a whole lot of money. But it's a pretty easy way to earn a few extra dollars. So if you're wondering if it's legit, I can verify that it is. My first check arrived in the mail recently.
Have you tried CashCrate? How much have you earned?
Like More Than Finances?
Subscribe for regular updates via email.