Four Tips To Help You Nail The Job Interview
Remember that WaMu commercial a few years ago, where the guy walks late into a meeting and says "Sorry I'm late, I had a job interview – nailed it!"? Hilarious!
But how many of us are actually that confident?
Having applied and interviewed for numerous jobs in my career, I know there's a lot for me to learn to become a good interviewer. Why? Because I didn't get most of those jobs!
If you're anything like me, the interview can be a nerve-wracking experience. Nonetheless, if you want the job, you need to go through it.

So while I'm far from an expert at interviewing, here are some things I've learned that can help you get the job.
Pick The Right Day And Time
If you're allowed to choose the day, avoid Monday mornings and Friday afternoons. On Monday, people are still talking about their weekends and getting ready for the new week. On Friday, they're thinking about the weekend and getting ready to leave the office.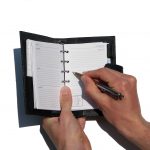 As for time, choose a morning appointment between 9 am and 11 am. Before 9 am, the interviewers may not have let the coffee sink in yet. After 11 am, they might be hungry and be thinking about lunch.
If this time frame doesn't work, the next best is between 2 pm and 4pm. Before 2 pm, they might still be full from lunch and have yet to settle back into their work. After 4 pm, interviewers may rush through the interview so they can leave on time.
So Tuesday, Wednesday, or Thursday before 11 am is ideal.
Show Up On Time
It's said that 80% of success is just showing up. If that's true, maybe 80% of failure is NOT showing up. Once you've setup the interview time, they'll give you the address of the company. Put it into your GPS –  if you have one – or find it using Google Maps and get a printout. You won't nail the interview if you don't show up!
But being on time actually means being there 10 to 15 minutes before the interview. Arrive at the location early, but go to the interview on time. This will give you time to check your appearance in the restroom, and to relax and mentally prepare.
Don't Discuss Salary Or Benefits Yet
They're probably aware that what you really want to know about is pay, benefits, and vacation time. But don't bring up these questions at the outset. First, show them what you can do for the company – convince them that you're the right person for the job.
Once you do get an offer, then you can begin negotiating salary and talking about extra perks. After all, you can't negotiate more vacation time if you haven't even been offered the job.
Ask Questions
Translated literally, the word "interview" comes from a Latin word that means to "consider between." This implies that the interview is a two-way conversation.
It's not enough to just answer their questions. To really stand out, ask the interviewer a few questions when you have the opportunity.
People who ask questions appear brighter and more interested. Here are some examples:
What qualities are you looking for in the right person for this position?
What is the most important issue for the new hire to tackle?
What criteria are used to evaluate and promote employees?
What kind of professional development programs are available to help me grow?
What are some other tips you have for performing well during the job interview?
Like More Than Finances?
Subscribe for regular updates via email.