How To Pick Stocks Like Benjamin Graham – The Defensive Investor
Although I'm not an advocate of picking individual stocks to make up the major part of an investing program, I do have a small amount of money invested in single stocks. With that said, the framework that I used – and continue to use today – to analyze the stocks was primarily influenced by Benjamin Graham's bestseller, The Intelligent Investor.

If you're not familiar with who Graham is, maybe you know his most famous protege – Warren Buffett. As the third richest man in the world, Buffett says The Intelligent Investor is "by far the best book about investing ever written." So if Buffett thinks this man has something useful to say, I'm definitely going to listen.
In the book, Graham makes a distinction between a defensive investor and an enterprising investor. A defensive investor has two main goals:
Avoid serious losses, and
Have freedom from effort and the need to make frequent decisions.
<!– google_ad_section_start –>
Here are seven criteria that he suggests we follow to help us find a quality stock as a defensive investor.
Adequate Company Size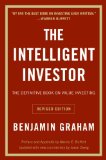 Since smaller companies are more vulnerable to market fluctuations, Graham thought they were inappropriate for the defensive investor. So when he first wrote the book in 1949, he suggested focusing on stocks of companies with at least $100 million in annual sales. If the company is a public utility, he lowered the requirement to $50 million in total assets.
Jason Zweig, who wrote commentary on an updated version of Graham's book, advised screening out stocks with a total market value of less than $2 billion.
Strong Financial Condition
Financial condition is measured by the company's current ratio – calculated by dividing current assets by current liabilities. Graham believed that if a company's current assets were at least twice their current liabilities, the company would be strong enough to withstand hard times.
He also advised that long-term debt shouldn't exceed net current assets (current assets minus current liabilities). Using these filters, the list of suitable companies would be narrowed down to those that were conservatively financed and had staying power.
Earnings Stability
To be considered a solid stock, Graham wanted the company to have had positive earnings in each of the previous ten years.
Earnings Growth
Earnings alone were not sufficient for Graham to consider a stock safe for the defensive investor. In addition, over the previous ten years, the company should have increased its earnings per share by a total of 33%.
A Consistent Record Of Dividends
Graham also insisted on uninterrupted dividend payments over the past 20 years. Though it's no guarantee that the company will continue to do so indefinitely, it's a sign in the positive direction.
Moderate Price/Earnings Ratio
The current price shouldn't be more than 15 times greater than the average earnings over the past three years.
Moderate Price/Book Value Ratio
Similarly, the current price shouldn't be more than one and a half times the book value.
But to allow for some flexibility, Graham suggests that the product of the price/earnings ratio and the price/book value ratio shouldn't exceed 22.5.<!– google_ad_section_end –>
Applying The Criteria
With this knowledge, there are many stock screeners available to help you analyze stocks. I like to use Yahoo's Stock Screener. Though it doesn't have the capability to filter stocks using all seven criteria specifically, most are available to point you in the right direction. From there, you can dig deeper by using the SEC's EDGAR database to find a company's annual reports.
Do you invest in individual stocks? If so, what criteria do you use to choose them? Do you use a particular stock screener?

(Visited 25 times, 1 visits today)