How To Pay For Plastic Surgery With Bad Credit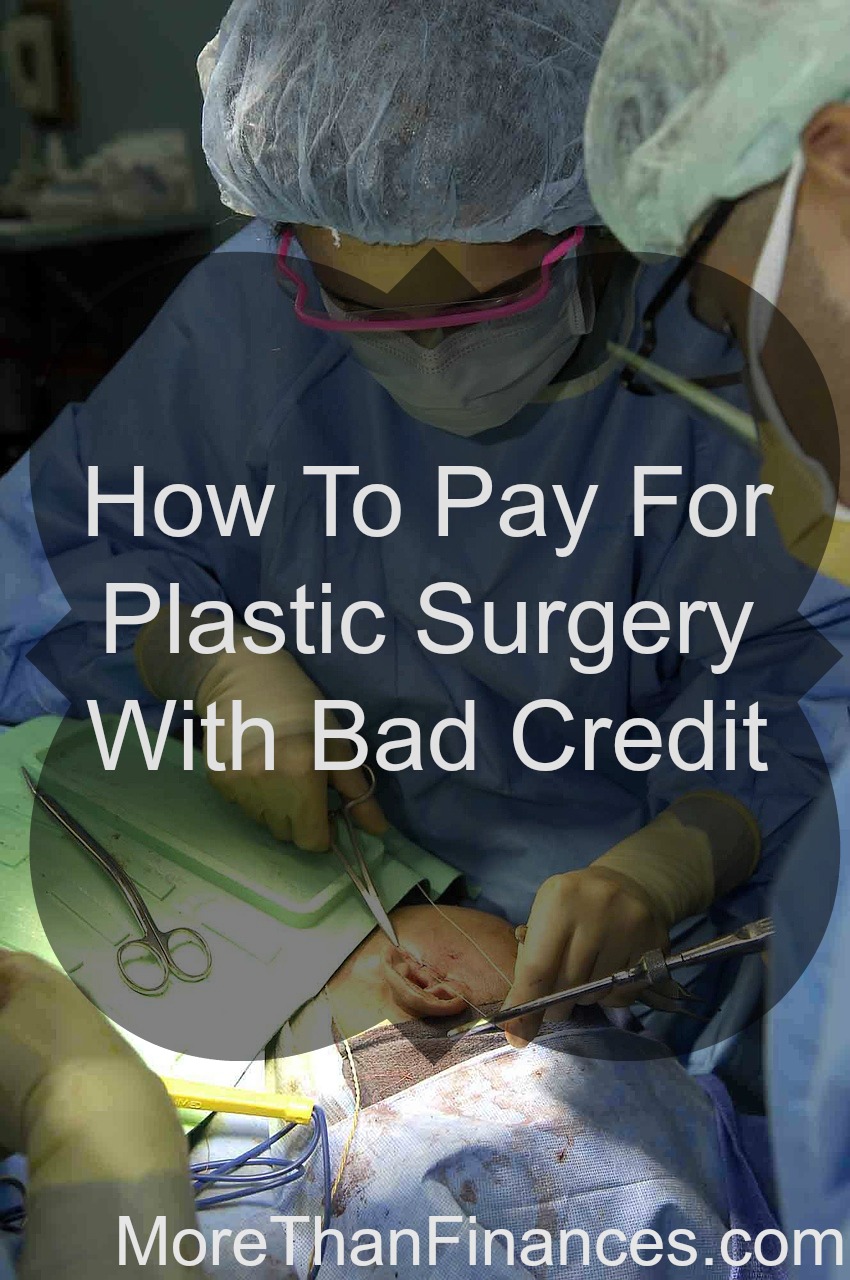 People get plastic surgery for many reasons, some for larger breasts, other for smaller ones. Some people want to have better shaped noses, ears, mouths really anything and everything. Sometimes it's just that they have tried everything to lose weight and nothing is working and they desperately want to be thin.

Whatever the case thousands every year go "under the knife" for a better look. But how do they afford it? Surely not everyone has enough cash to pay for this? Just like with every large purchase in your life you can finance your plastic surgery. Which leads to the question is how to pay for plastic surgery with bad credit?
How To Pay For Plastic Surgery With Bad Credit
One option for paying is to simply wait and save. By saving up you won't have to pay any interest. You also won't have to worry about how to pay for plastic surgery with bad credit. But you will have to wait longer than you probably want to, especially if it's something that has been bothering you for years possibly even your whole life.
Put It On Credit Cards
Another way is to just put the entire price of the surgery on a regular old credit card. With the average credit card rate at 15.07 this may not be the best option, but it may also be the only option. Having bad credit means you may not be able to get financing if you can't get financing then you may have no choice. That being said if you have bad credit, it's probably because your credit cards are already maxed out or close to maxed out so you may not have this option.
Take Out A 401K loan
If you have worked in the same job for a long time odds are you have a 401k set up through them. Most will offer whats called a 401k loan with a very low interest rate attached to it. Though this is really something that you should never ever do without seriously considering the long term consequences it is an option how to pay for plastic surgery with bad credit.
Start a GoFundMe Page
If you don't have available credit, and a 401k loan won't work for you then borrowing the money may be another option. If you have friends and family that are willing to donate a little or a lot to help you reach your dreams that can go a long way towards the price of your plastic surgery. You could even set up a GoFundMe page where many have been able to get the full price of their surgeries paid for by others.
Get Financing For Medical Procedures.
The best way would be to go through a service such as CareCredit, they offer loans specifically for medical procedures, including plastic surgery. If your credit is really bad this probably won't work but if it's above 620 you should qualify for some sort of financing.
Now that you know how to pay for plastic surgery with bad credit you can take over the world. Also financing more things, if paid on time will increase your credit score. So by getting your dream procedure done not only will you finally have that look you've always wanted you will also be helping your credit.
(Visited 58 times, 1 visits today)