Is Primerica Just Another Pyramid Scam?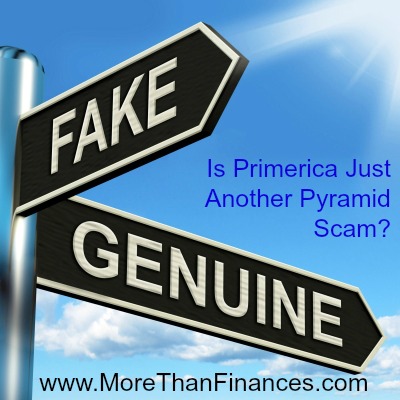 While driving for Lyft a passenger mentions to me that he is always looking for more help and thinks I would be perfect for his team. We had spoken about all the different side hustles I do and how hard I work.
It was a short 10-minute ride but at the end, he hands me his card and tells me to give him a call if I ever want to make real money, he worked for Primerica.
What Is Primerica?
Primerica is a Main Street Company for Main Street North America. Our mission is to help families earn more income and become properly protected, debt free and financially independent. – Primerica's Official Site.
Basically, Primerica is a company that sells life, auto, and home insurance, and offers financial investment solutions.
To do this they higher "life-licensed" individuals who then sell those services to friends, family and anyone else.
Can You Make Money From Primerica?
Once you sell Primerica's services you will then receive a commission off of that sale. Depending on how many people you know and how good a salesman you are depending on if you can make money or not by becoming a partner with Primerica.
You can also sign people up under you that when they make money you make money. This is commonly called multi-level marketing or pyramid marketing. Many people shy away from things like this thinking that it is a scam just set up to take your money.
Is Primerica A Scam?
Being hesitant is a good idea about any business endeavor. But just casting something off as a scam because you don't understand it for what it is can be wrong too.
Will you become rich selling Primerica's services? You could. If you know enough people and are a good enough salesperson you can make a good living off of selling through them. But what are the odds?
According to Primerica's own site, the average per person income from Primerica is $5.513.00  per year. Their annual report also notes that they have brought in over 600,000 new partners in the last 3 years but still only have just over 105,000 because so many of the new ones leave.
Yes, it does cost money to start the business, and it will take time and require hard work. But doesn't anything that is truly worth it in the world?
If I only make the average of $5,513.00 I could still go on a very nice vacation, more than one. I could pay off credit card debt, or invest in my retirement.
I Never Called Him Back
I never did call the guy who gave me his card. Though I was interested in "making real money" I also knew I could do it on my own. I didn't want a cookie cutter business that I try to sell to my friends and family.
Just because it isn't for me doesn't mean though that it's a scam, it's something that can make you money. It's unlikely to make you rich but with the power of compound interest and time, it could change your life.
For other ways to make money, or at the very least not spend more money read these articles.
4 Actual Ways To Make Money While You Sleep
Earn Extra Money With Cashcrate
Sales Techniques – How the Liking Rule Makes Us Spend Money
Image by Stuart Miles at FreeDigitalPhotos.net
(Visited 96 times, 1 visits today)