Pros and Cons of Making a Car Insurance Claim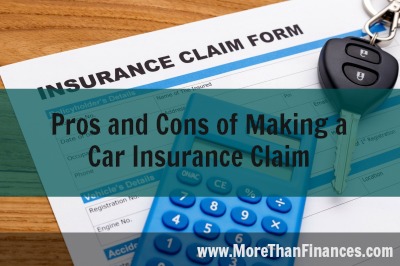 I backed out of my parking space ready to finish the day and go home. Feeling exhausted, and not completely paying attention, next thing I know I've rear ended another car. What was I going to do? Would insurance cover this? Should I even use insurance?




If you have been involved in an accident that wasn't your fault, and the driver of the other car is insured, then your car insurance will not be affected.  But if you are at fault, or if the other driver is untraced or uninsured, or if your car is set on fire or stolen, you may need to claim against your insurance.
But it's common knowledge that if you make a claim against your insurance, you'll forfeit all or part of your no-claims bonus (unless it's protected), meaning that your premium for the following year will be higher.  That can mean that it's tempting not to go through your insurers to pay for any damage caused.  There are pros and cons of doing this, which are set out below.
Pros of claiming under your insurance:
However expensive the claims become (particularly if someone is injured, or their car is damaged to an unknown extent), your insurance will pay for it all, except for your excess.
If your car is still driveable, your insurance policy will continue to protect you for the rest of the term of your insurance, protecting you from further claims.
Your insurer will usually arrange for your car to be taken to a garage if it's not drivable, and for a garage to inspect and repair it (they would arrange the latter even if you have to take it there).
The work done to repair your vehicle is normally guaranteed for several months after the accident.
You may have a hire car or courtesy car available under your insurance.
You don't have to deal with the other party to the accident other than to swap details with each other at the time of the accident.
If you choose to pay the other driver, they may not be entirely honest about the costs involved and may later come back and declare that they have suffered a personal injury (and your insurers may refuse to pay since they were not informed of the original accident and had they been they might have advised you to dispute liability).
Cons of claiming under your insurance:
You will lose all or part of your no-claims bonus unless it is protected (and if it is protected, you will lose a 'life' in that you may not be able to make another claim without losing the bonus).
A hire car or courtesy car is usually only available 'for the time it takes to repair the car'.  The garage that your car is sent to by the insurer may not have time to start work on your car for several days or even weeks, during which time you wouldn't have a replacement car.  If your car is then declared a write-off, it won't ever be repaired and so you won't receive a hire car or courtesy car at all.
You still have to declare any accidents if searching for cover in subsequent years, even if you still have your no-claims bonus.
If you have paid in monthly installments, you will have to pay the balance due for the rest of the year before your claim will be processed (that can come as a shock if you're only one or two months into your annual policy and have to pay 10 or 11 months' worth of premiums ahead of schedule).
If you are coming to the end of your period of insurance and the claim is not yet settled, you may be unable to apply for insurance elsewhere whilst the claim is outstanding – so you may be stuck with an unfavorable renewal premium from your existing insurers without being able to shop around for a cheaper quote.
Think carefully about the above and weigh up the pros and cons relevant to your circumstances before claiming against your car insurance.
For more on insurance whether for a car or a bike check out these articles.
What factors can affect car insurance quotes?
Buying Your First Time Bike Insurance
Best Real World MPG Cars Which are Better Used
Image by everydayplus at FreeDigitalPhotos.net
(Visited 521 times, 1 visits today)