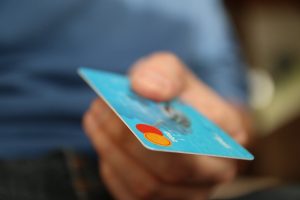 If you think that applying for as many credit cards as you can will up your chances of getting one, please think again. Multiple and simultaneous credit card applications can wreak havoc with your credit ratings. Want to know how to apply smartly? Here are a few tips and tricks that are sure to improve your credit score in a hurry.
The Catch-22 of credit
You need some sort of credit in order to have a score with Equifax, Experian, and TransUnion. These are the agencies to which credit card companies and other lenders turn when they want to know if you're a good risk. The best way to establish a good credit score is to obtain one card and use it wisely. Pay it off each month, if you can. If not, at least pay more than the minimum balance due. This will gradually yet effectively raise your credit score.
Apply for one card and wait. If you get the card, great. If not, apply for another. Don't apply for a bunch of credit cards at once, though. Do that, and your credit score may be dinged, says Wise Piggy magazine. You see, a portion of your credit score at Experian and other reporting agencies is based on new credit inquiries. A so-called "hard credit inquiry" that is more than a mere review of your score can drop your rating by several points. If your credit's good, these few points might not make much of an impact. If your credit is new or if you have an already low score, these few points can be significant.
If you keep making timely payments on your existing card, you may be able to reverse the point deficit in a few months, although the inquiry may remain on your credit score for up to two years, advises Nerd Wallet magazine.
Mortgage inquiries may not count against you
Bear in mind that not all "hard inquiries" will hurt your credit score. For instance, if you are seeking a mortgage, you may apply to several lenders at one time in order to find the one who offers the best deal. Say you apply to six lenders. Because all applications are about a single mortgage and not for a credit card, the inquiries count as only one hard inquiry. Credit card applications are completely different. Apply for plastic from several companies at once, and lenders may see you as a risky borrower.
Fix your finances 
Get out of debt as quickly as you can. If you find that your bills are impossible to pay, you may wish to consult with a credit counselor for help with consolidating your debts. There's no shame in asking for help, and debt consolidation may get you back on the path to financial wellness.
Money's important and credit is, too. But they're not the most important things in life. Manage your debt, pay your bills on time and be sure to stop and smell the proverbial roses.